A Neurotrophic & Nootropic Formulation with BDNF and NGF mRNA Expression Enhancement Features for the Treatment of Neurological Damage & Development Disorders BDNF NGF Neurotrophin
Mis à jour le 1 septembre 2021 — Creative Commons Attribution Share-Alike 4.0
Ce jeu de données a été publié à l'initiative et sous la responsabilité de Erdal Can Alkoclar
Publié le 23 avril 2020 et mis à jour le 1 septembre 2021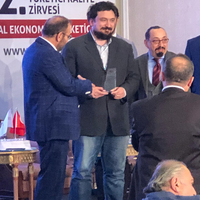 Erdal Can Alkoclar
Erdal Can Alkoclar is a Turkish Inventor, Scientist and Investor. Alkoclar is the co-founder and running president of Mas Pharmaceuticals . He is the sole inventor of 143 applied and 282 pending patents; 44 of them being in current PCT protection. Alkoclar is the rightsholder and Applicant of the…
Informations
Licence

ID

5ea12564d2bfb2355de2bc6f
Temporalité
Fréquence

Semestrielle

Date de création

23 avril 2020

Dernière mise à jour de ressource

23 avril 2020
Intégrer sur votre site
URL stable
Description
A Neurotrophic and Nootropic Formulation consisting of a Pro-Somathropic Dioscin Analouge with increased systemic duration due to prolonged half-life, a Gymnemic Acid Analouge with BDNF NGF and Neurotrophin B3 mRNA Expression Enhancing Properties. Formulation may serve as an adjuvant curative means for Neurological Development Defects along with Chronical Cerebrospinal Ailments like Dementia, Neuromascular Defects and other Neurodegenerative Disorders.
Ressources communautaires 0
Vous avez construit une base de données plus complète que celles présentées ici ? C'est le moment de la partager !
Réutilisations 0
Explorez les réutilisations de ce jeu de données.
Avez-vous utilisé ces données ? Référencez votre travail et augmentez votre visibilité.
Discussion entre le producteur et la communauté à propos de ce jeu de données.