Ce jeu de données a été publié à l'initiative et sous la responsabilité de Erdal Can Alkoclar
Publié le 14 mai 2020 et mis à jour le 1 septembre 2021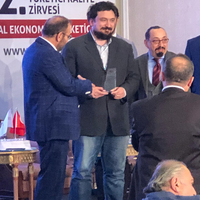 Erdal Can Alkoclar
Erdal Can Alkoclar is a Turkish Inventor, Scientist and Investor. Alkoclar is the co-founder and running president of Mas Pharmaceuticals . He is the sole inventor of 143 applied and 282 pending patents; 44 of them being in current PCT protection. Alkoclar is the rightsholder and Applicant of the…
Informations
Licence

ID

5ebcd8a7d2bfb261315f3ca6
Temporalité
Fréquence

Annuelle

Date de création

14 mai 2020

Dernière mise à jour de ressource

17 mai 2020
Intégrer sur votre site
URL stable
Description
WE HEREBY PUBLISH OUR BIOCEUTICAL PATENT PORTFOLIO THAT MAY PROVIDE EFFICIENT CURATIVE & PREVENTIVE MEANS FOR THE MOST SEEN MEDICAL AILMENTS IN LUXEMBOURG. OUR FORMULATIONS PORTFOLIO LISTED IN THIS DATASET INCLUDES BCL-2 EXPRESSION INHIBITORS, CYCLIN B1 & D2 INHIBITORS, Hıf-10 SUPPRESSIVE AGENTS, TNF-A & NF-KAPPA B COX-2 INTERLEUKIN-6 SUPPRESSIVE AND IMMUNOMODULATIVE AGENTS FOR AUTOIMMUNE DISEASES, FMO3 SUPPRESSIVE ANALGESIC AGENTS, THYROGENIC & THYROMODULATORY AGENTS, RNA POLYMERASE & DNA POLYMERASE & VIRAL DNA GYRASE SUPPRESSIVE ANTIVIRAL AGENTS, TOPOISOMERASE I & II, RIBONUCLEOTIDE REDUCTASE SUPPRESSIVE ANTIBACTERIAL AGENTS, GLUT4 TRANSLOCATIVE ANTIDIABETIC AGENTS AND MANY OTHER INNOVATIVE FORMULATIONS WITH NOVEL MECHANISMS OF ACTION.
WE HEREBY DISCLOSE OUR INVENTIONS FOR THE GREAT PEOPLE OF LUXEMBOURG IN ORDER TO PROVIDE AND EFFICIENT CONTRIBUTION TO THEIR COLLECTIVE HEALTH, AND FOR ALL.
BEST REGARDS
ERDAL CAN ALKOCLAR & METEHAN YESIL
Ressources communautaires 0
Vous avez construit une base de données plus complète que celles présentées ici ? C'est le moment de la partager !
Réutilisations 0
Explorez les réutilisations de ce jeu de données.
Avez-vous utilisé ces données ? Référencez votre travail et augmentez votre visibilité.
Discussion entre le producteur et la communauté à propos de ce jeu de données.