Analyse de cyclabilité du réséau routier (communes DICI et Uelzechtdall)
This dataset comes from a certified public service

Cette base de données a été élaborée au cours d'une étude menée en 2016 par le Ministère du Développement durable et des Infrastructures en collaboration avec la LVI (Lëtzebuerger Vëlosinitiativ) et les communes du DICI et du Ulezechtdall (Luxemboug-Ville, Strassen, Bertrange, Leudelange, Hesperange, Walferdange, Steinsel, Lorentzweiler, Lintgen, Mersch). Elle représente la « cyclabilité » de l'ensemble du réseau routier du périmètre étudié. Chaque route est classée selon un niveau de difficulté et dangerosité d'utilisation par les cyclistes selon la même logique que les pistes de ski (de « adapté aux débutants » à « uniquement pour experts ». Une explication détaillée de la classification fait partie du jeu de données.
Ces données représentent la situation au moment de la réalisation de l'étude en juin 2016. Les évolutions ultérieures du réseau cyclable n'y sont donc pas reprises.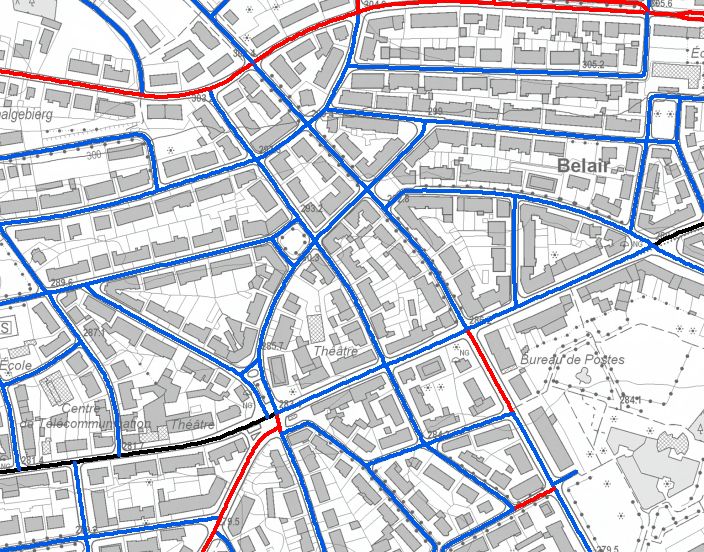 Resources
2016_Screenshot_Fahrradtauglichkeit.jpg
Réseau routier classé selon la cyclabilité
Les données sont disponibles dans le format Shapefile.
Note explicative méthodologique de l'étude
Le document est rédigé en langue allemande.
Discussions
Discussion between the organization and the community about this dataset.
Community resources
You have built a more comprehensive database than those presented here? This is the time to share it!
Reuses
You reused these data and published an article, a computer graphics, or an application? It's time to let you know! Reference your work in just a few clicks and increase your visibility.